all images © PAINTER8 Arts Society
and their respective artists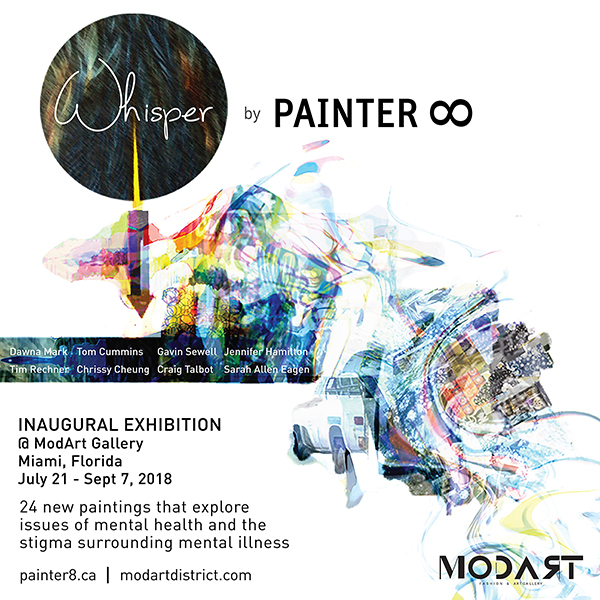 ---
ModArt Gallery is pleased to present its inaugural exhibition Whisper, a curated group exhibition which features work by the Canadian arts society PAINTER8. Whisper addresses the issues of mental health and the stigma of mental illness. This exhibition presents more than 24 new artworks created by 8 contemporary visual artists: Chrissy Cheung (Vancouver), Tom Cummins (Vancouver-Auckland), Gavin Sewell (Montréal-NYC), Jennifer Hamilton (Laurentians-Montréal), Tim Rechner (Edmonton), Dawna Mark (Calgary), Sarah Allen Eagen (NYC-Toronto) and Craig Talbot (Cardston, AB). Curated by Contact C. Artists in attendance.

Whisper shows the viewer what it is like to live with, or support someone who lives with, mental illness from eight varied perspectives through intimate paintings. This exhibition was informed by research, interviews with clinical experts and lived experience. This exhibition addresses a crucial conversation in today's society: One in five adults in America experiences a mental illness in any given year and one in 25 adults lives with a serious mental illness such as major depression or bipolar disorder*. People with undiagnosed mental illnesses live in silence, often without a support network or access to adequate resources and treatment. 

About PAINTER8 

PAINTER8 is a Canadian Arts Society composed of diverse visual artists who work in different cities all across the across the country. PAINTER8's mission is to create dialogue with other artists through shared visual language, and to advance art creation across Canada by bringing together artists with unique backgrounds. This collective creates projects and touring exhibitions that span the nation sharing inspiration, support, critical feedback, encouragement, knowledge and expertise.

About ModArt Gallery 

ModArt was founded by Venezuelan musical artist Norka, and is nestled in the heart of the Wynwood art district in Miami. The gallery title comes from the combination of Latin word "modus" and Art. ModArt showcases modern, contemporary and urban art and haute couture fashion. 
to view the online catalogue: https://www.modartdistrict.com/whisper
---